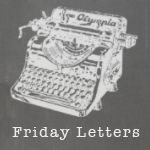 Go link up up with
Ashley
for Friday Letters.
Dear Hailey, you are starting daycare a/k/a "school" next week. I am freaking out a little although I know you desperately NEED it and WILL love it.
Dear Husband, I can't believe we have an almost 15 month old and we are putting her in daycare next week. Where is the time going?
Dear Weekend, I am so glad you are here. Time with the Hubs and friends tonight and a cousin's bachelorette party tomorrow night followed by recovery on Sunday.
Dear Body, Please be easy on me this weekend. I'm not a youngster anymore.
Dear Parents, thank you so much for taking Hailey with you this weekend so that the previous mentioned festivities can happen. I appreciate it more than you know.
Dear Mother Nature, although I love the cooler weather and the wardrobe it brings, I am not ready for winter and snow. AT. ALL.
Dear House, can't you clean yourself?
Dear Fall TV, I'm so excited for the next couple of weeks for all my shows to start!!! Yay!
Dear Britney, you know I have undying love for you and you are THE ONLY reason I am watching XFactor, but why do you seem so awkward?
Dear Picture Editing, I know people are getting impatient, but I'm going as fast as I can.

Dear Vikings, you are undefeated this season so far (haha), please keep it up.

Dear Husband, I am looking forward to our date night tonight. Wink!